Dental Crowns
---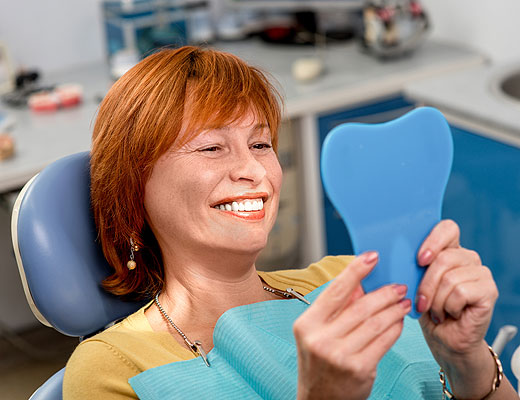 A crown is a common dental device that many of us have. If you've had restorative work done on your teeth, a crown may be inside your mouth. Do you think you may need a dental crown? If so, look no further than Montgomery Family & Cosmetic Dentistry. From our exceptional services to our knowledgeable, professional staff, we're the leading dental office in the area!
What is a Dental Crown?
A dental crown is a tooth-shaped cap that fits over a restored tooth. It helps to protect the tooth from decay and damage. In order to place these crowns, a dental expert must file down part of the natural tooth. These crowns are then held into place with dental cement or glue.
Different Types of Crowns
Take a look at the different varieties of crowns below:
Metal crowns
Various metals are used to design crowns, including nickel, gold, palladium, and chromium. These crowns are the strongest, longest-lasting option on the market today.
All-ceramic or porcelain crowns
All-ceramic or porcelain crowns are options that closely resemble natural teeth. All-ceramic crowns are made with various materials, but most commonly zirconium dioxide. There are also options made of 100% porcelain.
Other types of crowns:
Porcelain-fused-to-metal (PFM) crowns
Same-day dental crowns
Pressed ceramic crowns
All-resin crowns
Need expert help regarding the different options? If so, contact Montgomery Family & Cosmetic Dentistry today!
Reasons to Get a Dental Crown
A dentist may recommend getting a dental crown to achieve the following:
Protect a cracked tooth
Support a dental bridge
Cover and protect a tooth after a root canal
Add strength to a weak tooth
Restore a broken tooth
Protect a dental implant
Cover a discolored tooth
No matter the reason you need a dental crown, they can lead to improved dental health!
Exceptional Dental Crowns in Rockville, MD
Montgomery Family & Cosmetic Dentistry is your one-stop shop for outstanding dental crowns in Rockville, MD. We use top-of-the-line materials and state-of-the-art technology to offer the best crowns in the area. Furthermore, with our comfortable office and friendly, caring staff, you'll always feel right at home with us.
To work with the most trusted dental practice in the Rockville, MD area, call Montgomery Family & Cosmetic Dentistry today to make an appointment!