Dental X-Ray
---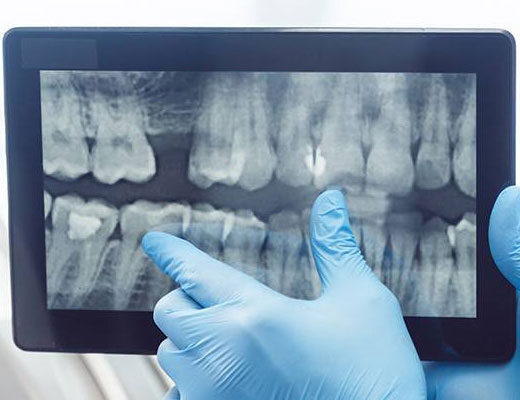 What's going on beneath your teeth and gums? As long as your teeth look on the outside, everything should be well in those areas you can't see. Right? Unfortunately, this is a misconception that could cause expensive dental repairs in the future. This is why your dentist in Rockville, MD, occasionally takes dental X-rays of your teeth and gum areas. These help detect problems that aren't visible to the naked eye.
What Can a Dental X-Ray Tell Me?
Dental X-rays are useful in determining the health of your tooth roots, jawbone, sinuses, and nerves. Your dentist can't really see these areas just by looking, regardless of what type of instrument they're using. By taking X-rays, however, they may find early signs of infection, impacted teeth, bone loss, abscesses, cysts, and tumors. Needless to say, the earlier your dentist is able to detect and diagnose these types of conditions, the better your prognosis.
Are Dental X-Rays Safe?
Dental X-rays are very safe, especially those that use digital imagery. Even traditional X-rays use much less radiation than they used to use, which is basically the same amount you might absorb by using your cell phone or computer. Digital X-rays, however, use even less — up to 80 percent less. Add in the fact that your dentist only takes X-rays when absolutely necessary, and you have very little to fear from this common diagnostic test.
How Are Dental X-Rays Performed?
Your dental professional may take internal (intraoral) or external (extraoral) X-rays of your mouth. The difference between the two is that the sensor is placed either inside or outside the mouth. It only takes a moment to take an X-ray, and the procedure is painless. The one exception to this rule is if your dentist needs you to bite down during the X-ray and you have a toothache.
Dental X-Rays in Rockville, MD
For more information on dental X-rays in Rockville, MD, contact Montgomery Family & Cosmetic Dentistry today. Our friendly professionals are always willing to sit down with you to discuss your test or procedure so you know what to expect throughout the process. Call today to schedule a convenient time to come in for your consultation and routine dental exam.